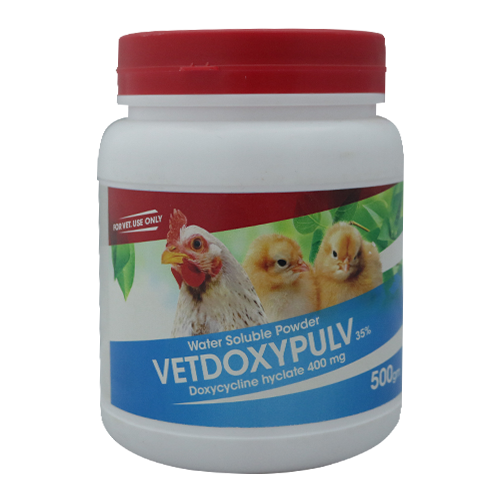 VETDOXYPULV   W.S.P
Flying with pure respiratory tract
COMPOSITION
– Each 1 gm- contains:
Doxycycline hyclate 400 mg (eg. To doxycycline base 346.641 mg).
DESCRIPTION
– a semi-synthetic tetracycline derived from oxytetracycline ,effective against aerobic and anaerobic grame-negative bacteria as streptococcus spp. Staphylococcus aureus, Chiamydia spp.
mycoplasma spp.Salmonella spp. Pasteurella multocida, Bordetella bronchiseptica Rickettsia, Chlamydia, spirochaetes and protozoa.
– Doxycycline inhibits bacterial protein synthesis intracellularly by binding on the 30-S ribosome subunits, This interferes with binding of aminoacetyl-couping of amino acids to the acceptor site on the mRNA ribosome complex and prevents coupling of amino acids to the elongating peptide chains.
– The effect is bacteriostatic.
INDICATIONS
* Broller Chickens:
1- prevention and treatment of chronic respiratory disease (CRD). Caused by Mycoplasma spp, Escherichia coll, Haemophillus paragaillinarum and Bordetella avium.
2- Enteritis caused by Clostridium perfringens and Clostridium colinum
*Pigs:
prevention of clinical respiratory disease due to pasteurella multocida and Mycoplasma hyopneumoniae sensitive to doxycycline.
DOSAGE OF ADMINISTRATION
* Broller Chicken&plags:
18.5mg Doxycycline hyclate/kg body weight /day for 3-5 concecutive days.
* Turkey:23.1 mg doxycycline hyclate/kg body weight/day for 3-5 consecutive days.
TARGET SPECIES
Broiler chicken, Turkey and pigs
CONTRAINDICATIONS
Not permitted for use in laying birds producing eggs for human consumption
WITHDRAWAL PERIO
Broiler Chickens: 7 days
PACKAGING
250 gm, 500 gm & 1kg
Reference
– Anadon A., Martinez- Larranaga M.R., Martinez M.A.: Drug interactions and clinical out- comes.
J Vet pharmacol ther 2003, 26 ( Suppl. 1), 22-24.
—————————————————————
– Atef M., Youssef S.A., El-Eanna H.A., El-Maaz A.A.: Influence of aflatoxin B1 on the Kinetic disposition, systemic bioavailability and tissues residues of doxycycline in chickens. Br Poult Sci 2002, 43, 528-532.
———————————————–
– Biondeau H.M,: Fluoroquinolones: mechanism of action, classification, and development  of resistance, Surv Ophthalmol 2004, 49 (Suppl. 2). 73-78.
—————————————————
– Bladek T., posyniac A, Gagda A., Gbylik M., Zmudzki J.: Multi-class procedure for analysis of antibacterial compounds in animal tissues by liquid chromatography-tandem mass spectrometry. Bull Vet inst pulawy 2011, 55, 741-748.
—————————————————–
Castanon J.I.R,: History of the use of antibiotic as growth promoters in European poultry feeds. Poultry Sci 2007, 86, 2466-2471.
—————————————————-
– Commission Decision 2002/657/EC August 2002 implementing Council Directive 96/23/EC concerning the performance of analytical methods and the interpretation of results. Official publications of the European Communities 2002, L 221, 8-36