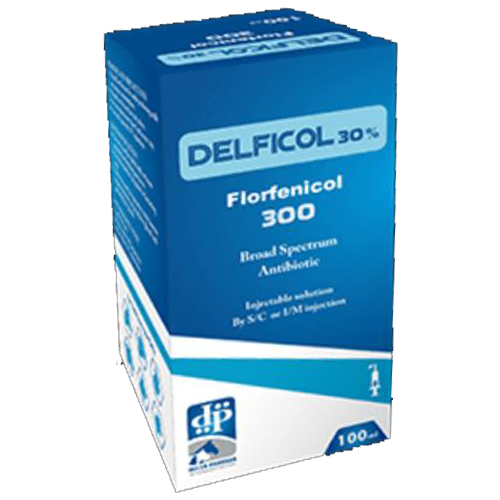 DELFICOL 30%
Injectable solution
Each 1 ml  DELFICOL 30% contains:
Florfenicol 300 mg
Categories: Antibiotics & Antimicrobials
Composition:
Each 1 ml DELFICOL 30% contains: Florfenicol 300 mg
DESCRIPTION:
Florfenicol is a synthetic broad-spectrum antibiotic. The active ingredient florfenicol is active against many gram-positive and gram-negative bacteria . It acts by inhibiting bacterial protein synthesis.
INDICATIONS:
Delficol indicated as prophylactic and for treatment of gastrointestinal and respiratory infections caused by E. coli and Salmonella PasTeurella Actinobaccillus and Streptococcus spp
Withdrawal times
– For meat:.
Poultry : 7 days.
Contra indications
Not to be used in layers producing egg for human consumption.
Dosage :
100ml of delficol /1.5 ton bwt
Package:
100 ml