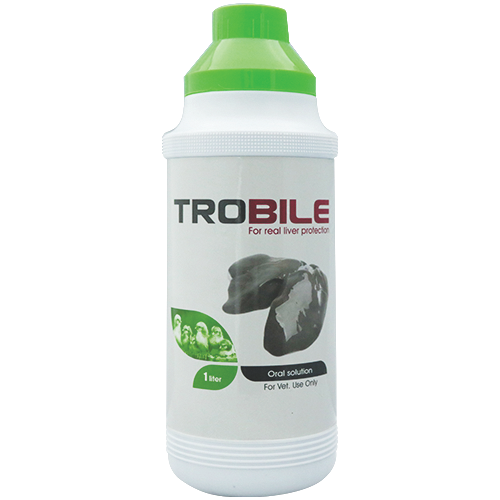 TROBILE
For real liver protection
DRINKING WATER SOLUTION COMPOSED FROM    
22.5 gm
cynara
22.5 gm
Choline chloride
60 gm
L carnitine
2 gm
Vitamin B 1
10 gm
Vitamin B 12
10 gm
Methionine
35 gm
Phosphoric acid
100 gm
Citric acid
200 gm
Sorbitol
To
1000 gm
Carrier containing natural source antioxidants and extra natural source lipotropic factors
– Normal liver
– mild FLHS
– moderate FLHS
– severe FLHS
DOSAGE OF ADMINISTRATION
0.5 to 1.5 ml / litre of drinking water
TARGET SPECIES
chicken of all types ( broiler breeders layers ) , turkey , rabbit , large animals
HOW DOES TROBILE WORKS ?
– Cynara
cynara cardunculus containing flavolignans, which are strong antioxidants protecting the liver from toxins and pollutants by  preventing free radical damage,
British poultry scince volume 51 , number 4 (August 2010), pp. 461 – 487 (Dietary plant bioactives for poultry health and productivity
R.J. WALLACE, W. OLESZEK1 , C. FRANZ, I. HAHN2, K.H.C. BASER3 , A. MATHE4 AND K. TELCHMANN).
– Choline chloride
choline plays an essential role in fat metabolism in the liver. It prevents abnormal accumulation of fat (fatty livers) by promoting its transport as lecithin or by increasing the utilization of fatty acids in the liver itself (xu et al., 2010). Choline is thus referred to as a 'lipotropic' factor due to its function of acting on fat metabolism by hastening removal or decreasing deposition of fat in liver.
– L carnitine
– transports long-chain fatty acids across the inner mitochondrial membrane for release of energy enhance the lymphatic absorption of fat and vitamin E (Zou et al., 2005)
– protect cells against toxic accumulation of acly-CoA compounds carnitine was found to be beneficial in detoxification of aflatoxins (Yatim and Sachan, 2001).
– Methionine
– first limiting amino acid.
– Methionine has many physiological functions, e.g. as an important methyl donor to provide the methyl group (CH4) necessary for metabolism in the body. And essential lipotropic factor.
– Methionine is also known to reduce oxidative stress in the body by increasing antioxidative compounds such as glutathione.
– Citric acid
limit pathogenic colonization in the gut and improve non-specific immunity, enhance calcium and phosphorus absorption.
– Sorbitol
increases the secretion of gastrointestinal hormones (secretin and cholecystokinin) which:
stimulates the secretion and excretion of bile, biliary salts and urine.
promotes detoxification: elimination of undesirable metabolits
Accelerates the transit, avoiding digestive retentions.
Sorbitol has also an effect on:
– Vitamin sparing.
– Cellular osmo-regulation.
– Fatty liver prevention.
  INDICATION AND DESCRIPTION
Trobile contains lipotropic factors , regulators of fat metabolism, readily sources of energy for liver and powerful antioxidants.
All the previous components would help for treating and preventing of fatty liver problem that occurs as a nutritional diseases and also accompany some problems such as mycotoxicosis and oxidative liver stresses and virall infections.
So trobile is a liver support product that could be used during:
– Fatty liver
– Mycotoxicosis
– Infectious viral diseases
Fatty liver syndrome or fatty liver hemorrhagic syndrome (FLHS) is a condition that affects only hens, primarily caged layers.
It is a metabolic or nutritional disease and is characterized by generalobsity with an enlarged, fatty liver that becomes soft and easily damaged.
Mortality rates vary and death is often caused by internal haemorrhage due to rupture of the liver.
Causes are:
– excessive calorie intake, (The principal cause)
– exposure to the mycotoxin aflatoxin.
– calcium deficiency.
– Stress of several origins like overstocking, handling, starting productions oxidative stress and viral infections.
– incorrect protein:energy balance
PACKAGE
1000 ML PACK
Shake well before use
Registration no. 1027