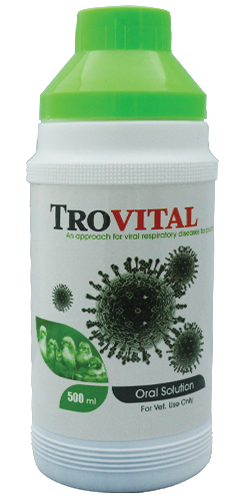 TROVITAL
( An approach for viral respiratory diseases for poultry )
DRINKING WATER SOLUTION COMPOSED FROM:
Vitamin E
100 gm
selenium
0.2 gm
Lectin
130 gm
Oregano oil ( carvacrol & thymol )
100 gm
Echinacea
130 gm
Menthol
1 gm
anise oil
 10 gm
Carrier containing activators
To

1000 ml
WHY THE EPIDEMIC SITUATION OF AVIAN RESPIRATORY VIRAL DISEASES COULD BE THE WORSE IN SOME LOCATIONS THAN OTHERS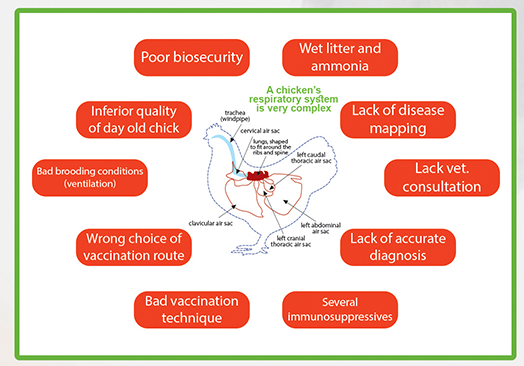 Poor biosecurity
Inferior quality of day old chick
Bad brooding conditions ( ventilation )
Wrong choice of vaccination route
Bad vaccination technique
Several immunosuppressives
Lack of accurate diagnosis
Lack vet. Consultation
Lack of disease mapping
Wet litter and ammonia
DOSAGE OF ADMINISTRATION
For prophylactic use:
0.5 ml / liter for 24 hours per day for 3-5 days
For treatment:
1 ml / liter for 24 hours per day for 3-5 days
WHY VITAMIN E & SELENIUM ?
Vitamin E is important in protection against the development of oxidative stress. Which always accompany and aggravate viral infections
Very important as a powerful immunostimulant
WHY LECTIN ?
Many lectins and specially c type lectin have antiviral activity but this effect needs proper choice for the source of the source of the lectin, dosage, and pharmaceutical form to give this effect and this was taken by great consideration in preparing trovital.
Lectin mediate attachment and binding of viruses to their intended targets.
Play important role in innate immune system
WHY OREGANO OIL (CARVACROL & THYMOL ) ?
Both of them have approved antimicrobial activity, antiviral activity, antioxidative activity, immune stimulation and anti-inflammatory activity (but this effect is greatly affected by the dosage and the source of the active ingredients).
WHY ECHINACEA PURPUREA ?
Very strong immunostimulant
Powerful antioxidant
Antiviral effect against some poultry respiratory virus (inhibit viral replication by interfering with signaling pathways involved in viral RNA translocation)
WHY ANISE OIL & MENTOL ?
It has an antiviral activity as it is the industrial source of aseltamivir which is an established therapy for avian influenza infections Anti inflammatory , help in relieving the clinical respiratory signs
INDICATION
Trovital contains many active ingredients known to have antiviral , anti – inflammatory , immunostimulant and antioxidant activity
Trovital was formulated and manufactured in the form of oil emulsion and this form was selected to keep all the active ingredients working together in aproper way to face the high mortality of the viral respiratory infections (ALM ND, IB) shorten course of disease and avoid secondary infection.
TARGET SPECIES
250 ml -500 ml – 1 liter plastic bottle
REFERENCE
January 2013 the Journal of Poultry Science 51(2)
Role of Vitamin E in Counteracting Oxidative Stress in poultry
———————————————————
Bhatti et al., J Antivir Antiretrovir 2016, 8:4 Effects of Vitamins E and C Supplementation on the Immune Response of Broiler Chicks
Nadeem Bhatti 1 , Zahid Hussain2* , Muhammad Mukhtar2 , Asghar Ali2 , Muhammad Imran2, Asim Rafique2 , Sohail Manzoor3 and Saad Rehman4
——————————————————–
African Journal of Biotechnology Vol. 11(94), pp. 16095-16098,22 November, 2012 the effects of Echinacea Purpurea dried extract on humoral immune response of broiler chicks to Newcastle vaccination 2012 poultry Science Association, Inc. Growth performance and antioxidant capacity of broilers supplemented with Echinacea purpurea L.in the diet T. T. Lee , *1 C. L. Chen , t C. C. Wang , *and B. Yu # 1
———————————————————
Published online 2009 Nov 13.
Anti-viral Properties and mode of action of standardized Echinacea purpurea extract against highly pathogenic avian influenza virus (H5N1 , H7N7) and swine-origin H1N1 (S-OIV) Stephan Pleschka, 1 Michael Stein, 1 Roland Schoop, 2 and James B Hudson3
———————————————————
Biological Effects and Modes of Action of Carvacrol in Animal and Poultry Production and Health – A Review
Article in Advances in Animal and Veterinary Sciences . March 2015
Evid Based Complement Alternat Med v.2011 ; 2011Screening for Antiviral Activities of Isolated Compounds from Essential Oils
Akram Astani, 1, 2 , Jurgen Reichling, 3 and Paul Schnitzler 1
———————————————————
Natural Products for treating or preventing influenza Catherine E. Ulbricht, Down Costa Natural Standard Research Collaboration One Davis Square, Somerville, MA, USA
———————————————————
Antiviral Res. 2017 June ; 142: 37-54. Antiviral Lectins: Selective Inhibitors of Viral Entry Carter A. Mitchell, Koreen Ramessar, and Barry R. O'Keefe* Molecular Targets Laboratory, Center for Cancer Research, National Cancer Institute, NIH Frederick, MD, 21702-1201 , USA