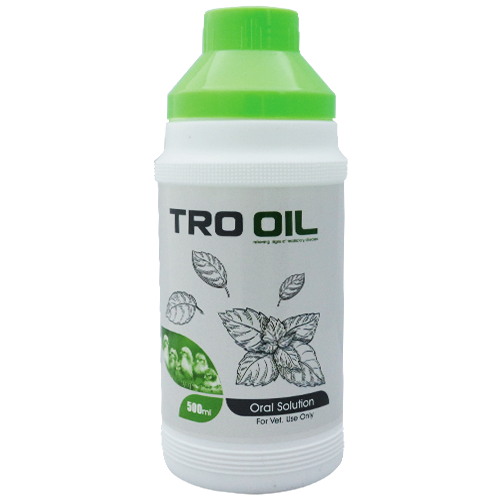 TRO OIL
relieving signs of respiratory diseases
DO WE NEED EXPECTORANT IN POULTRY
Aggravating
Dyspnea Blood PH disturbance Less food intake Reduction of AB reaching to respiratory tissue
Aggravating
Contaminate drinking water and reduce medication efficacy
DO WE NEED EXPECTORANT IN POULTRY
COMPOSITION
Composition per litre:
Eucalyptus ……………………………………………………… 50 gm
Menthol …………………………………………………………. 40 gm
Vitamin E ……………………………………………………….. 50 gm
carvacrol ………………………………………………………… 70 gm
Thymol …………………………………………………………… 13 gm
Carrier containing activators and supporting materials to … 1000 ml
INDICATIONS
– Tro Oil : is a well formulated emulsion to be used during respiratory infections as a mucolytic and anti-inflammatory product to help to relief the signs of respiratory problems.
-Tro Oil : does not affect the drinking water consumption and dissolves rapidly in drinking water.
– Tro Oil : is a very safe product and could be used at any age.
MINT OIL (MENTHOL)
– Obtained from fresh mint leaves, menthol.
– Act as an expectorant.
– It also has a relaxing, antibacterial, secretory & cooling effect.
– In the periods of high temperature an addition of an agent with a cooling effect on an organism is a very beneficial solution.
– It has a disinfection effect on the bronchi, preventing infections in the respiratory tract of birds.
EUCALYPTUS OIL
– obtained from the leaves of Eucalyptus globulus.
– cineol and eucalyptol acting as active substances.
– act as an expectorant.
– have a relaxing effect on the muscles of the respiratory system.
– The raw material irritates the nasal mucous membranes facilitating . the removal of discharge together with harmful dusts, thus restoring patency of the same time facilitating breathing and ventilation of on organism.
CINNAMON OIL 
– Cinnamaldehyde is the predominant compound of cinnamon, and presents antimicrobial and antioxidant activity (Lee et al., 2004; Faix et al., 2009). Hernandez et al. (2004) showed that 200 ppm essential oil extract from oregani, cinnamon and pepper improved nutrient digestibility in broilers. Moreover, the antibacterial activity of cinnamaldehyde and the essential oil obtained from cinnamon leaves was demonstrated by chang et al. (2001)
DOSAGE AND ADMINISTRATION
0.25-0.5 ml /liter for 24 hours per day for 3 – 5 days
TARGET SPECIES
Chicken of all types broilers, breeders, layers.
Ducks & turkey.
STORAGE
Store at room temperature.
PACKAGE
500 ml plastic bottle.