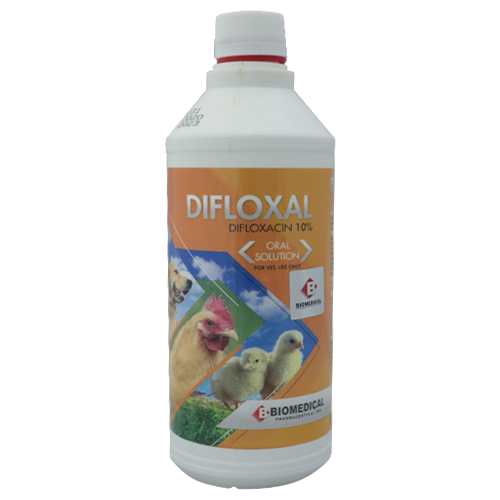 Difloxal
Composition:
Each 1 ml contains:
Difloxacin hydrochloride  ……………………………………….………..  109.13 mg
(Eq. to 100 mg Difloxacin base)
Properties:
Difloxacin can be bactericidal against many Gram-negative micro-organisms and a
selection of Gram-positive microorganism , The following organisms were tested and found to be susceptible to difloxacin in vitro :Escherichia coli, Klebsiella spp., Pasteurella spp., Pseudomonas spp., Staphylococcus intermedius. Difloxacin exert their antibacterial effects against both replicating and dormant microorganisms. Difloxacin acts primarily through inhibition of  bacterial DNA gyrase.
Indications:
For the treatment of :
-Acute uncomplicated urinary tract infections caused by Escherichia coli or Staphylococcus spp.
-Superficial pyoderma caused by Staphylococcus intermedius.
Dosage & Administration:
Route orally via drinking water
For active ingredient :
The recommended dose of difloxacin base is 5 mg/kg bodyweight per day
For whole product:
1 ml /20 kg body weight given once a day for at least 5 days.  Superficial pyoderma may require treatment for up to a maximum of 21 days.
Packaging:
Plastic bottles:  100 ml
Withdrawal period:
Chicken and turkey: meat 24 hr