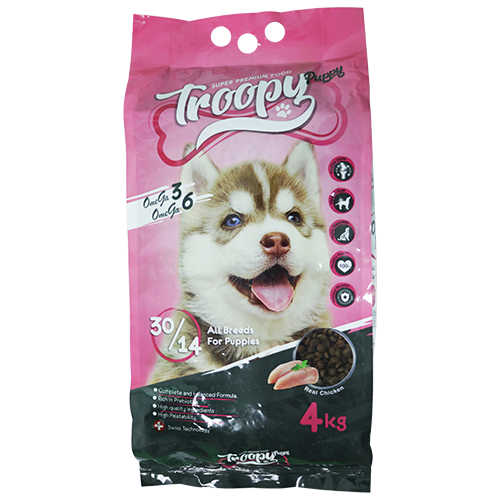 SUPER PREMIUM FOOD
Troopy Puppy
Omega 3
Omega 6
Healthy Joints
Healthy Coat
Highly Digestible
Healthy Heart
Immune Booster
30/14 All Breeds For Puppies
Complete and balanced Formula
Rich in prebiotics
High-quality ingredients
High palatability
Swiss Technology
Delicious Kibbles With Real Chicken
Troopy Puppy is a natural dry food With Omega 3 & Omega 6,
Vitamins and minerals are essential for puppy health.
Troopy Puppy contains essential minerals, vitamins & amino acids
Minerals (ferrous sulphate, Zinc oxide, Manganese sulphate, Copper sulphate, Calcium iodate, Sodium selenite)
Vitamins (Vit A, Vit D3, Vit E, Vit B1, Vit B2, Vit B6, Vit B12, Niacin, Pantothenic acid, Folic acid, Biotin, Choline chloride)
Amino Acids (Alanine, Arginine, Aspartic acid, Cysteine, Glutamic acid, Glycine, Serine, Histidine, Isoleucine, Leucine, Lysine, Methionine, Phenylalanine, Proline, taurine, Threonine, Tryptophan, Tyrosine, Valine, L-carnitine.
Importance of Omega 3 & Omega 6 (Ideal ratio)
Support healthy skin and coat, joint function, heart function, and the development and maintenance of the brain and eyes of young and adult dogs.
Boost immunity & so keeps the optimum performance of your pet.
Reducing inflammation caused by various conditions.
Improve mental health of puppies.
Decrease liver fat and prevent liver diseases.
Proper and Ideal storage:
Store in dry place, away from sun light.
NO GMO    
No Artificial preservatives
No Artificial Colors
No Artificial Flavors
Best use before:
Batch No: 4 Kg
Proudly made in Egypt